KoolMoves Animation Authoring Tool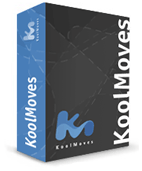 Used by both professionals and novices to create rich interactive content for web sites, KoolMoves is a popular animation authoring tool with rave industry reviews!
Combining ease-of-use with a wealth of powerful animation effects, KoolMoves makes it easy and inexpensive to create professional quality animations for web sites.
KoolMoves exports as mobile-friendly Html5, AVI/MP4, animated GIF, Android mobile app creation using AIR SDK, and Android and iOS mobile apps using PhoneGap. Html5 export now includes jQuery Mobile Widgets and Jssor-based slideshows. There is also legacy Flash export which is the principal difference between KoolMoves and KoolShow which is strictly Html5.
Only $19.95 USD
System Requirements: Windows 11/10/8/7
KoolShow Html5 Authoring Tool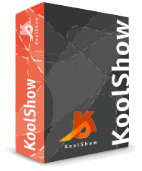 KoolShow provides an easy to use interface for creating Html5 (non-Flash) animations for text, images, vector graphics, audio, video, slideshows, and jQuery Widgets.
With the same frame-based animation capability of KoolMoves and mobile-friendly Html5 export, KoolShow is a smart choice for reaching mobile device users.
No knowledge of Html5 is required to create your animations.
Only $17.95 USD
System Requirements: Windows 11/10/8/7
KoolShow running in Crossover v12.5 on OS X 10.8.5 Mountain Lion screenshot
"Hi, i normally don't do this - as a matter of fact, i don't think i've EVER done this, but i just had to give credit where credit's due. I've used and own a lot of animation apps and Koolmoves is my favorite. My others - Anime Studio Pro, Toon Boom's Animate, SwishMax, Poser Pro 2012, etc, are great and all and i use them as well, but i use KoolMoves more, BION. So, i said all that just to say THANKS for making such an awesome, versatile, and yet user-friendly fun app, all for under an unbelievable $50."
"I just have to tell you. KoolMoves is the best software value I have ever worked with! We were gonna spend $300 but I found KoolMoves!"
"I ABSOLUTELY LOVE THIS TOOL!!! It saves me a ton of work!!!!!"
"The simplicity of use of this product astounded me. After five minutes I created a movie I would have been pleased to put on a customer's website."
"It is still one of the best programs I ever had the pleasure to download. Intuitive and simple to use, yet powerful in its efficiency and sophistication."