KoolMoves Animation Authoring Tool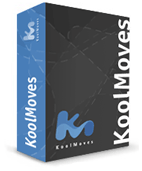 Used by both professionals and novices to create rich interactive content for web sites, KoolMoves is a popular animation authoring tool with rave industry reviews!
Combining ease-of-use with a wealth of powerful animation effects, KoolMoves makes it easy and inexpensive to create professional quality animations for web sites.
With the decline in Flash's popularity, Koolmoves' focus is now on Html5, AVI/MP4, and animated GIF export and Android mobile app creation using AIR SDK, and Android and iOS mobile apps using PhoneGap. Html5 export now includes jQuery Mobile Widgets and Jssor-based slideshows.
Only $39.00 $29 USD
System Requirements: Windows Vista/7/8/10
KoolShow Html5 Authoring Tool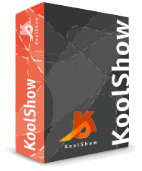 KoolShow (the Html5 portion of KoolMoves) provides an easy to use interface for creating Html5 (non-Flash) animations for text, images, vector graphics, audio, video, slideshows, and jQuery Widgets.
With the same frame-based animation capability of KoolMoves and mobile-friendly Html5 export, KoolShow is a smart choice for reaching mobile device users.
No knowledge of Html5 is required to create your animations.
Only $29.00 $26 USD
System Requirements: Windows Vista/7/8/10
KoolShow running in Crossover v12.5 on OS X 10.8.5 Mountain Lion screenshot
"Hi, i normally don't do this - as a matter of fact, i don't think i've EVER done this, but i just had to give credit where credit's due. I've used and own a lot of animation apps and Koolmoves is my favorite. My others - Anime Studio Pro, Toon Boom's Animate, SwishMax, Poser Pro 2012, etc, are great and all and i use them as well, but i use KoolMoves more, BION. So, i said all that just to say THANKS for making such an awesome, versatile, and yet user-friendly fun app, all for under an unbelievable $50."
"I just have to tell you. KoolMoves is the best software value I have ever worked with! We were gonna spend $300 but I found KoolMoves!"
"I ABSOLUTELY LOVE THIS TOOL!!! It saves me a ton of work!!!!!"
"The simplicity of use of this product astounded me. After five minutes I created a movie I would have been pleased to put on a customer's website."
"It is still one of the best programs I ever had the pleasure to download. Intuitive and simple to use, yet powerful in its efficiency and sophistication."