Html5 and Html5 Animation Gallery
The animation at the top of the page is a sprite sheet animated with custom javascript in conjunction with Box2d, a physics engine used in many games.
The following animation created by FlashPulse was created in KoolMoves many years ago and exported as a Flash movie. It is possible to play old Flash movies using the Ruffle Flash player emulator.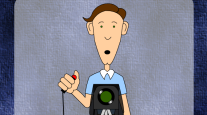 The following animation (slightly different versions) was created by Richard Ward using KoolMoves and exported as HTML5, AVI/MP4, and animated GIF.