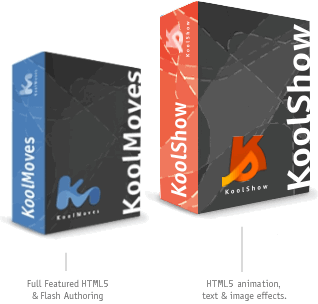 Html5 animation software that's so easy and powerful, they're all you need to...
Export as mobile-friendly Html5
Play video & music with media players
Create high impact web sites & animations
Customize text and image effects, buttons
Include jQuery Mobile Widgets
Create small Jssor-slider slideshows for ads
Html5 Animation Software
Need to create text and image effects or general animation for audiences on smart phones, tablets and PCs? Want to reach iPhone and iPad users with eye catching style? Using Html5 canvas is one of the coolest ways to create dynamic web graphics for mobile devices. And now you don't have to write JavaScript to use it. KoolMoves and KoolShow do that for you automatically, so you can enjoy the power of Html5 canvas without getting bogged down in technical details.
KoolMoves and KoolShow make it easy for you to create what you need in Html5 such as customizable:
• Special effects
• Buttons
• Slide shows
• Vector animation

Another plus is that Koolmoves and KoolShow let you create the Html5 canvas code visually. You can position and draw things with a mouse, rather than having to describe them in code. And Koolmoves and KoolShow let you make key frames, so you can see and edit the turning points of an animation beforehand. This is a big time saver, because if you write your own JavaScript there is no way to see what your Html5 canvas will look like until it runs.
Bottom line, KoolMoves and KoolShow are great tools for exporting animations as Html5 thus providing a non-Flash animation solution. Their powerful animation engines makes many difficult tasks a snap.