KoolMoves Flash authoring tool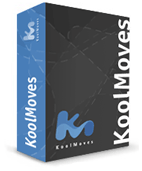 Used by both professionals and novices to create rich interactive content for web sites, KoolMoves is a popular Flash authoring tool with rave industry reviews!
Combining ease-of-use with a wealth of powerful animation effects, KoolMoves makes it easy and inexpensive to create professional quality animations for web sites.
As Adobe Flash® has developed into the standard for animation on the web, KoolMoves has emerged as an advanced but low cost alternative to Flash.
System Requirements: Windows 98/Me/NT4/2000/XP/Vista
KoolWizard flash image and text effects


Designed to let you be productive and get results in minutes, KoolWizard (a lite version of KoolMoves) focuses on text and image effects.
KoolWizard is ideal for non-professional web designers who do not require the advanced features of KoolMoves.
Featuring a wizard-driven user interface, no knowledge of Flash is required to create your animations.
System Requirements: Windows 98/Me/NT4/2000/XP/Vista
"I just have to tell you. KoolMoves is the best software value I have ever worked with! We were gonna spend $300 but I found KoolMoves!"
"I ABSOLUTELY LOVE THIS TOOL!!! It saves me a ton of work!!!!!"
"The simplicity of use of this product astounded me. After five minutes I created a movie I would have been pleased to put on a customer's website."
"It is still one of the best programs I ever had the pleasure to download. Intuitive and simple to use, yet powerful in its efficiency and sophistication."
"I just really wanted to say... what a FANTASTIC program!"
"This has to be one of the best-kept secrets out there in design, multimedia, and animation... I stumbled on it completely by accident, and within moments of using it knew it was special."